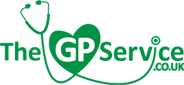 Welcome to your Online Doctor Service provided by The GP Service
Getting Started
Click "Get Started" to review available times and book your consultation
Complete your registration on first use, then simply log into your account for future consultations
Confirm your appointment, then proceed to the payment stage and enter your unique landingpage8 Discount Code.
See a Doctor online with your chosen device
Collect or receive your prescription from a local pharmacy
Contacting The GP Service
Any questions or quiries please contact The GP Service between
8 am to 8 pm – Monday to Sunday
Call: 0247 615 8050
email: support@thegpservice.co.uk
About the Service
In our busy day-to-day lives, more people are fi­nding it difficult to take time to see a Doctor. You could be left up to 10 days waiting for an appointment.
The GP Service offers a convenient, discrete and secure service to help diagnose and treat common conditions. Our dedicated doctors are UK based and registered with the General Medical Council.
No queues. No waiting rooms. Prescriptions in under 30 minutes. Simple!
How it works
The GP Service provides an online doctor service for Ryden employees from any internet-enabled device to diagnose and treat common conditions.
Simply book an appointment, complete a short registration form on first use, enter your unique code in the voucher option at checkout and connect to your online appointment with an internet-enabled device with webcam and audio facility.
As an emplyee you are entitled to two free consultations per annum, and may then continue to use the service on demand at our advertised rates.
Frequently Asked Questions
Is my information shared with my GP?
The GP Service will share your information with your GP unless you specifically select to opt out of this when registering with the service.
How do I know if the medication is genuine is it safe to order online?
Firstly, it must be noted that all pharmacy members that are part of The GP Service have been verified by us and all registered with the General Pharmaceutical Council (GPHc) and hold their own pharmacy registration numbers.
This means you can be assured that all products you receive from us have come from genuine registered Pharmacies.
What if I already have a private prescription?
Unfortunately, our service is based on our Doctors reviewing your condition before issuing a prescription to your nominated pharmacy, if you already hold a private prescription please contact your local pharmacy for further information.
After I have collected or had my treatment collected can I return it?
UK law does not allow the return of medications. However, if your order arrives or when you collect it appears to have been tampered or damaged please contact your nominated pharmacy or let them know in store at you nominated pharmacy.
Does the GP Service offer a repeat prescription?
For selected treatments these may be available or repeat prescriptions. However, these will be shown in your patient record and would need to be approved by the Doctor with further consultations.