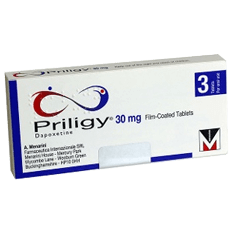 Pack Size
30mg
60mg
3 Tablets
£30.49

(£10.16/tablet)

£36.49

(£12.16/tablet)

6 Tablets
£43.49

(£7.25/tablet)

£55.49

(£9.25/tablet)

12 Tablets
£79.49

(£6.62/tablet)

£99.99

(£8.33/tablet)
What is Priligy?
Priligy contains an active substance called 'dapoxetine'. This belongs to a group of medicines called 'selective serotonin reuptake inhibitors' (SSRIs). Priligy may also be known as a 'urological' medicine.
It increases the time it takes to ejaculate and can improve the control over the ejaculation. This may reduce the frustration or worry about fast ejaculation. It is used to treat premature ejaculation in adult men aged 18 to 64 years. Premature ejaculation is when a man ejaculates with little sexual stimulation and before the man wants. This can cause problems for the man and may cause problems in sexual relationships.
2) Is this medicine suitable for you? 
Do not take Priligy if:
you are allergic to dapoxetine or any of the other ingredients of this medicine
you have heart problems, such as heart failure or problems with the heart rhythm
you have a history of fainting
you have ever had mania (symptoms include feeling over−excited, irritable or not being able to think clearly) or severe depression
you have moderate or severe liver problems.
3) Can I take Priligy with other medicines? 
Do not take Priligy at the same time as any of the medicines listed above. If you have taken any of these medicines, you will need to wait 14 days after you stop taking it before you can start taking Priligy. Once you have stopped taking Priligy, you will need to wait 7 days before taking any of the medicines listed above. If you are not sure about what to do, talk to your doctor or pharmacist before taking this medicine.
Certain medicines for fungal infection, including ketoconazole and itraconazole
Certain medicines for HIV, including ritonavir, saquinavir, nelfinavir and atazanavir
Certain antibiotics for treating infection, including telithromycin
Nefazodone − an antidepressant
4) How to take you medicine – 
Always take this medicine exactly as your doctor or pharmacist has told you. Check with your doctor or pharmacist if you are not sure.
The recommended dose is 30 mg. Your doctor may increase the dose to 60 mg.
Only take the medicine 1 to 3 hours before sexual activity is anticipated.
Do not take this medicine more than once every 24 hours or every day.
Swallow the tablets whole to avoid a bitter taste, with at least one full glass of water. This may help lower your chance of fainting (see 'Fainting and low blood pressure' .
This medicine can be taken with or without food.
This medicine should not be used by men under 18 or over 65 years of age.
Discuss your Priligy treatment with your doctor after the first 4 weeks or after 6 doses to see whether you should continue treatment. If treatment is continued, you should see your doctor again to discuss this at least every six months.
5) Possible Side Effects 
Stop taking Priligy and see your doctor straight away if:
You have fits (seizures)
You faint or feel light headed when you stand up
You notice any changes in your mood
Feeling irritable, anxious, agitated or restless
Feeling numb or having 'pins and needles'
Difficulty getting or keeping an erection
Sweating more than normal or flushing
Diarrhoea, constipation or having wind
Stomach pain, bloating or being sick