Regaine Foam Extra Strength 5% Minoxidil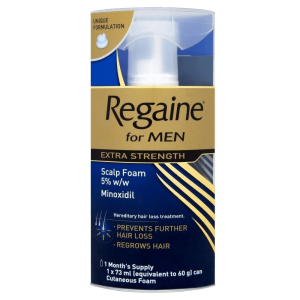 Pack Size
5%
1*60ml
£36.49

(£0.61/ml)

3*60ml
£66.99

(£0.37/ml)
About Regaine Foam
What Is Regaine Foam
Regain works by dilating the tiny blood vessels in the scalp which, in turn, increase blood circulation to hair follicles. This is thought to help stimulate hair growth as well as prevent further hair loss. It is more effective in young men who have been losing hair for a short period of time rather than older men who have more hair loss over a longer period of time.
Is this medicine suitable for you?
Regaime extra strength solution scalp is not suitable for everyone and some people should never use it. Other people should only use it with special care. It is important that the person prescribing this medicine knows your full medical history.
Our doctors may only prescribe this medicine with special care or may not prescribe it at all if you:
Allergic to minoxidul
If the hair loss is a result of any other drug
In case of total hair loss i.e. loss of all body hair
In case the hair loss reason is unknown
Blood pressure problem
In case of shaved scalp
In case of any injury on the scalp
If you have a heart problem
If at any time it appears that the medicine has become unsuitable, it is important that the prescriber is contacted immediately.
Can I take it with other medicines?
It can interact with some medicines. It is important to inform our doctors of any medicines you are taking whether they are prescribed or purchased over the counter.
How to use you medicine
Regaine should be applied twice daily. It should be used for at least two months for any hair growth to become apparent and continued to be used thereafter if succsessful as hairloss may recur once treatment is stopped.
It should be directly applied on the scalp and not on any other body part. It is important to wash the hands before and after application of the medicine. The hair and the scalp should be dry.
Make sure you follow any specific instructions given to you by your prescriber or that are in the Patient Information Leaflet that comes with this medicine.
Possible Side Effects
Everyone's reaction to a medicine is different. It is difficult to predict which side-effects you will have from taking a particular medicine, or whether you will have any side-effects at all. The important thing is to tell your prescriber if you are having problems with your medicine.
Common side effects:
Headache
Excessive hair growth
Rash
Acne
Skin irritation
Scalp irritation
Temporary hair loss
Change in hair colour
If you feel unwell or if you have concerns about a side-effect, you will need to seek advice.
If you feel very ill or experience any low blood pressure, heart problem, dizziness, weight gain get medical help straight away.