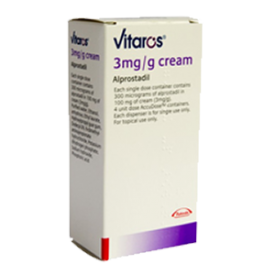 Applications Size
300mcg
4 Applications
£58.49

(£14.62/tablet)

8 Applications
£106.49

(£13.31/tablet)

12 Applications
£154.49

(£9.66/tablet)
What is Vitaros Cream?
Once applied it works by entering into the corpus cavernosum and increasing the blood flow to penis.
Is Vitaros Cream Suitable for you?
Vitaros is not suitable for everyone and some people should never use it. Other people should only use it with special care. It is important that the person prescribing this medicine knows your full medical history. It will not be prescribed to anyone under the age of 18 years.
Our doctors may only prescribe this medicine with special care or may not prescribe it at all if you:
If you have blood pressure problem
If you are allergic to alprostadil
Incase of inflammation or infection in penis
Incase you have hyperviscosity
If your partner is pregnant
If you have liver or kidney problem
Incase of heart problem
Men prone to blood clots un the veins
Men with physical abnormalities of the ppenis
Men with bone marrow cancer, sickle cell disesase.
Men with priapism i.e. history of having recurrent prolonged erection(over 4 hours)
Do not take more than one dose in 24hrs and not more than twice or thrice in seven days.
If at any time it appears that the medicine has become unsuitable, it is important that the prescriber is contacted immediately.
Can I take Vitaros Cream with other medicines?
It can interact with some medicines. It is important to inform our doctors of any medicines you are taking whether they are prescribed or purchased over the counter.
Alprostadil may enhance the effects of medicines that decrease blood pressure. If you are taking a blood pressure lowering medicine you may feel dizzy after using Vitaros cream. If you experience this you should sit or lie down until the symptoms pass. Medicines that can decrease blood pressure include the following (some of these may be taken for reasons other than high blood pressure):
ACE inhibitors such as enalapril, captopril
aliskiren
alpha-blockers such as doxazosin, tamsulosin
angiotensin II receptor antagonists such as losartan, valsartan
antipsychotics such as chlorpromazine
beta-blockers such as atenolol, propranolol
calcium-channel blockers such as diltiazem, nifedipine
clonidine
diazoxide
diuretics such as bendroflumethiazide, furosemide
dopamine agonists such as apomorphine, bromocriptine, pergolide
hydralazine
levodopa
MAOI antidepressants such as phenelzine, tranylcypromine
methyldopa
minoxidil
moxonidine
moxisylyte
nicorandil
nitrates such as amyl nitrate (poppers), glyceryl trinitrate, isosorbide mononitrate
tizanidine.
How to use your Vitaros Cream?
Vitaros cream is to be applied to the tip of the penis from the AccuDose container. After administration, it will take 5 to 30 minutes for the erection to develop and the effect will last for up to one to two hours.
Only one dose may be used in 24 hours and two to three doses in a seven day period.
Possible Side Effects of Vitaros Cream
Everyone's reaction to a medicine is different. It is difficult to predict which side-effects you will have from taking a particular medicine, or whether you will have any side-effects at all. The important thing is to tell your prescriber if you are having problems with your medicine.
Common side effect (1 and 10 out of every 100 people)
Burning sensation or pain in the penis.
Swelling or redness of the penis.
Tingling, throbbing or numbness of the penis.
Inflammation of the penis and/or foreskin (balanitis).
Pain in the urethra.
Burning sensation or inflammation in partner's vagina.
People taking medicine for blood clot problem may have an increased risk of urethral bleeding after the usage of the vitarous cream.
If you feel unwell or if you have concerns about a side effect, you will need to seek advice.
If you experience any side effects, other than those listed or are troublesome please inform a doctor